To stay young both men and women follow many procedures. That may be choosing a cosmetically enhanced way to make skin look tight and young.  this step however is neither pocket friendly nor it is a one time process. Once we use it, regular updates and checkups become mandatory. Apart from this several people follow a strict lifestyle of healthy living. It includes eating a balanced and nutritious diet. Maintaining a physical workout cycle which may involve yoga, muscle strengthening exercises, dance, and many more. People are always involved in any anti aging program.They believe it will help them to look and feel young. But there is a difference in feeling old and becoming aged.
We become old when we feel old. This is the initial step of entering the old age cycle. Some people surrender a a very young. they act and behave like an elder citizen. The same behaviour is accepted by their minds. Whereas there are some who enter the legal age of being called an elder citizen but refuse to feel or act so. By following a certain mental attitude, we too can stay young for as long as we want.
Anti Aging Program
First we need to understand that it all begins from our thoughts. A single thought can force to spend most of our time in fighting whether we are old or young. Remove this confusion from your minds. The body will perform as our mind will behave. If we feel young and strong, our body will follow the same command. The energy will remain high as well. Which is the reason why there are many examples around the world where people did something extraordinary despite being aged or elder.
Reprogram Thoughts
Our thoughts are very powerful. They are in fact most powerful weapon of our human body. When we focus and use our energy for one thought, the success rate to achieve that thought enhances. So begin with using positive affirmations and suggestions.
Prepare an affirmation chart and fix a time table of repeating those affirmations. Those affirmations should be
to the point
direct and to the point
of present tense
small and easy to learn
When these points are taken care of then in any language affirmations can be made. The purpose is simple, which is to feel young. Affirmations must indicate the meaning that you are feeling young. Start using affirmations to make your mind habitual.
Physical Activities
No achievement has ever been made just by sitting and thinking about it. It is mandatory or universal law to act upon thoughts. When we know we are now focusing our thoughts to stay young and active. Similar lifestyle needs to be followed by the same.
Mind is our main priority but so is our physical state of health. After using affirmations and suggestions comes the step of acting upon it. It means that now when you want to feel young then do what young people are doing. Go out and meet people.
Take your family or friends upon some picnic or adventure. Keep trying new clothes and fashion which you want to follow. When you will not look old then you will not feel old. Such actions will keep on reminding your mind to stay active and fresh.
Not only that but your bond with your family or friends will also strengthen. This is a win-win situation for all of us. However if you want to know more then would recommend you to watch our following video: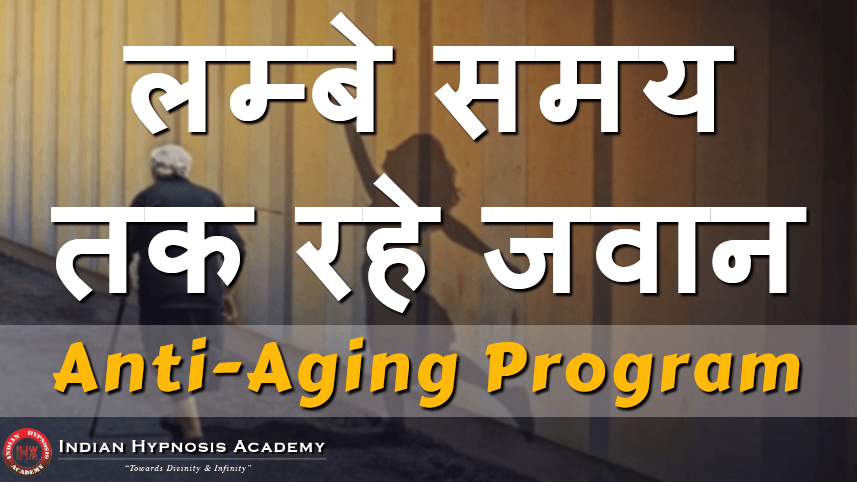 Learn Self Hypnosis
Self hypnosis is beneficial because it helps in controlling our thoughts. With this training program we can learn to divert our attention upon anything as we require. Indian Hypnosis Academy offers training program to learn and develop our own self.
To know more about our courses, click here.
Also subscribe our YouTube channel for more updates.