Sometimes eyes communicate everything. This is an old saying that lies never lie. As we all know old is gold, so the saying is also not wrong. Eyes are part of our body and we use them to express our emotions. When we are angry our eyes shows anger by becoming red due to increase in blood pressure. When we are happy our eyes becomes happy. That happiness is observed and felt only by watching in eyes of others. When we know how to talk with eyes, every communication cycle becomes smooth and more understandable.
Eyes contribute in enhancing our communication process. On several instances, people just look and other person understands their intention. This is how powerful eyes are in this cycle. Having control over our eyes will help us to leave a lasting impression. Also, it will enhance our confidence to new heights.
How to Talk with Eyes
With help of our eyes, we observe situation. For example, if we are entering in a room then just by looking in eyes of others we can make an estimation about the emotional energy. If they we meditating, we will immediately become quiet because we can see that. In short, without eyes it becomes next to impossible to know about our surrounding.
Today we are going to learn about some of the points which help in making a communication process more effective with help of just eyes.
Eye Contact
It is important to look into the eyes of person with whom we are interacting. This gives them assurance that yes you are taking interest in the communication process. Also make sure you are making appropriate eye contact. Remember to keep eye contact for 70% of the total duration. This will also allow the other person to feel relaxed and also develop good rapport of yours.
Eye Gesture
An approval from eyes is also satisfactory. No need to speak always to give positive gestures. Instead simply using nodding gesture along with eyes gives the same feedback. This gesture is also noticeable by us when we want to read eyes of others.
Watch our Video
We have made a video on importance of eyes in communication. Watch our following video and understand the concept: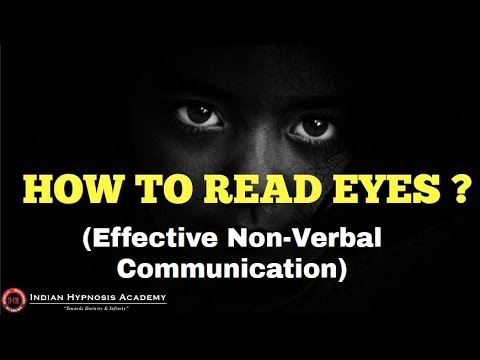 Learn Personality Development
It is vital to leave a confident and positive impression upon others. We can do that when we know that we have better command over our personality. Indian Hypnosis Academy conducts personality development and body language courses. They allow us to become more successful in our lives.
Learn today and know more about us by clicking here.
Also, subscribe our YouTube channel for regular updated videos.