Hypnosis is such a subject which somehow attracts misconceptions and disbelief. Many believe that hypnosis can happen without telling anyone. This belief occurred because of another disbelief, which is that people lose control under hypnosis. Similarly, more misconceptions keeps on associating with hypnosis. They tarnish the image of such wonderful and powerful healing therapy. We need to understand the concept of hypnosis first and then we need to proceed over the question of today. Can we hypnotize anyone without telling them?
Can we Hypnotize Anyone without Telling Them?
Before we begin with the above question, let us understand more about hypnosis. Hypnosis is communicative counseling therapy. It is more successful than other communicative therapies. Also it has no recorded side/negative effects. The person who goes under hypnosis retains total control of self. They are also totally aware about their surrounding and without their permission and approval, the process can not begin in the first place.
When you ask about hypnotizing anyone without telling them then yes it is possible. However if you are thinking that you can also hypnotize without their willingness then it is not possible. Hypnosis is carried with two main techniques: Direct and Indirect Techniques.
Sometimes a hypnotherapist uses indirect technique to begin the session. It happens because patient is afraid of getting hypnotized but wants to get hypnotized. So the hypnotherapist uses indirect technique with such patients.
To understand the process, watch the following video: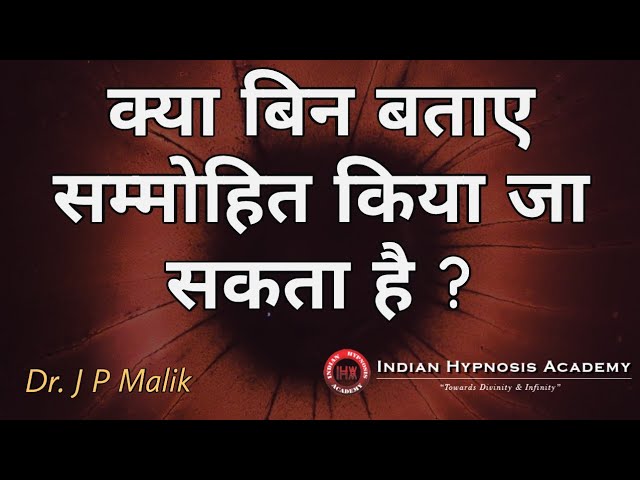 Learn Hypnosis
Indian Hypnosis Academy is conducting professional hypnosis classes for past 15 years. It has taught thousand of students Internationally. You can also now learn hypnosis to empower your own self. With the latest and advanced studies you will learn to help others and bring yourself close to success.
To know more about courses and discount offers, click Here.
Also subscribe our YouTube channel for regular information on hypnosis.