Hypnosis is a wonderful healing therapy. It helps in overcoming several psychosomatic issues. Although hypnosis is basically used for clinical purpose, however it is also useful in self development. When we talk about development of one's own self, we talk about their overall development. It is not necessary that we are using self-hypnosis for overcoming certain psychological deficiency. We also use self-hypnosis to attract wellness and financial abundance in our lives. We use self hypnosis affirmations to attract wealth.
Self Hypnosis Affirmations to Attract Wealth
When we talk about attracting wealth it does not mean money will start crawling towards us. It means that we are tuning our mental behaviour in such a way that we become more successful which automatically attracts wealth. In this process we use affirmations to bring the required change. We are now going to understand the correct formation and usage of affirmations.
The main purpose of using affirmations is to attract money. So the sentences will contain positive word formation. This helps in creating a positive welcoming attitude towards income. It also helps in making us more positive and encouraging.
To understand affirmation formation, we will use few examples:
"I feel rich and Happy"
"I love money and earning more"
Like the above mentioned examples, we will now frame affirmations as per our purpose.
The correct and best suitable time for saying affirmations is before going to bed. The reason is, we are under a natural hypnotic state at that time. So when affirmations are repeated, it directly goes into our subconsciousness.
Watch the following video to understand the process: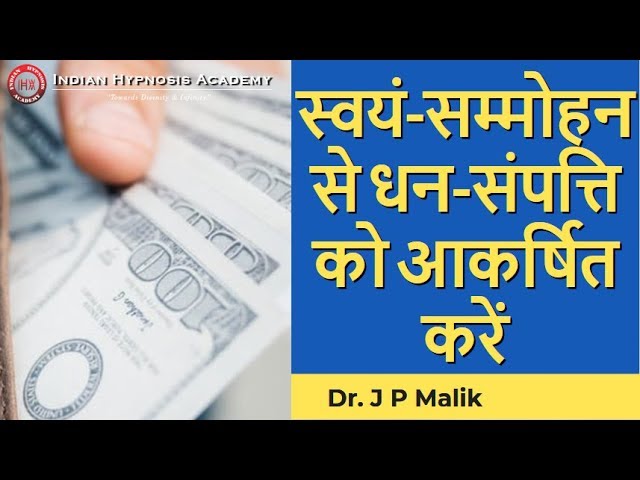 Learn Self Hypnosis
Self Hypnosis is a wonderful self developing technique. It helps in overall development of an individual. Not only it helps in overcoming some psychological issues, it also helps in emotional and mental growth of the person. It all depends upon the regular practice and correct technique using.
To learn self hypnosis and its correct application, click HERE.
Also subscribe our YouTube channel for more information.