Whenever there is some kind of increase in aggression, we recommend them to relax. To calm down and then process your thoughts. This is how important relaxation is for us. It helps us to control our thoughts which in turn control our actions. In any situation, only a calm and relaxed mind is able to conquer the hurdle. It gives us a super power to use our thoughts more constructively. And yes the role of relaxation in hypnosis is also vital. Since it is hard to control our thoughts. Hypnosis comes into action to help us.
Using hypnosis we not only overcome several psychological disorders. But also are able to control and efficiently use our thoughts. This is the reason why many doctors and therapists around the world recommend to practice self hypnosis. When we meditate we learn to stay calm and relaxed. However, when we use hypnosis, the same process becomes more productive. Lately hypnosis is becoming more popular and more used alternative therapy.
Role of Relaxation in Hypnosis
The process of hypnosis begins with making the client completely comfortable. When we get in touch with someone for the first time we stay very formal. But over time when we know them more, we become very comfortable. Thus we begin to trust them and in their presence we stay relaxed and calm.
Relaxed at Conscious State
This process is known as rapport building. The same process is essential in counseling. Since hypnosis is a counseling tool, we will call it counseling or hypno-counseling process here. A hypnotherapist or counselor does not have much time to know the patient that personally to make them feel comfortable.
So using the rapport building process, we make the patient feel safe and comfortable. They are already suffering from issues which makes them feel uncomfortable all the time.  Thus, using the correct techniques, we will make the patient relaxed. This is the initial process. We can say this is making the subject comfortable at the conscious state of mind. But there is another step to follow.
Relaxed at Subconscious State
Hypnosis works at subconscious state of our mind. That state of mind is responsible for everything happening to us. Hypnosis works efficiently when the subject is relaxed and calm. So before beginning the therapy, major time goes into making the mind and muscles relaxed.
Once hypnosis is induces, the relaxation process begins. It is mandatory and recommend to make the subject feel relaxation at every part of their body. The process of making every part relaxed is called progressive relaxation.
In this process, hypnotherapist ensures that from head to toe, every organ and muscles feel relaxed. This allows the subject to feel relaxation again at both psychical and mental state.
Watch our Video
We have also prepared a YouTube video on the same topic. In our video, we are explaining the same process and importance of relaxation.  Watch this video till the end to understand the process. Click on the following image to watch our video: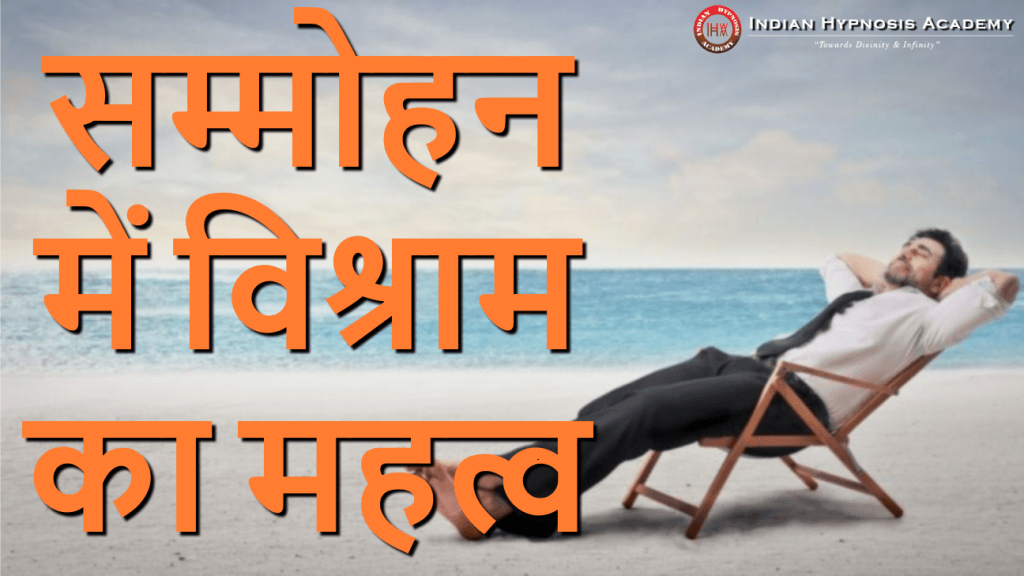 Learn Hypnosis
Indian Hypnosis Academy offers several courses and training programs in hypnosis. Learning hypnosis allows one to live life more successfully and peacefully. Most important benefit of learning hypnosis is to control our thoughts. Using this we learn to control our own thoughts and also we can help others too.
We provide certificate courses, diploma courses and self development courses. To know more about our courses, click here.
Also, subscribe our YouTube channel for regular updated information.